Balancing Body Scrub
£24.95
This natural salt scrub firms and rejuvenates your skin, removes toxins, and improves its appearance. It unclogs pores, removes bacteria, and reduces inflammation. The scrub contains beeswax for protection and antioxidants. Regular use enhances your skin's condition, promotes circulation, and delivers nutrients for a healthy glow. Use it twice a week before sleep for maximum moisturizing and youthful-looking skin the next day.
Add to wishlist
Adding to wishlist
Added to wishlist
SKU
N-R550
Categories

All products, Hand Wash
Tags

bahoma, body, fragrance, hand, hand wash, hydrating, london, moisturising, natural, perfumed, revitalising
Please select the fragrance
Please select the fragrance to receive the info
Divine sanctuary of self-care and inner rejuvenation
Introducing our luxurious "Bath & Body" collection, your ultimate companion for a blissful and rejuvenating daily spa routine. Carefully crafted to provide an exquisite sensory experience, this collection features a range of body products designed to pamper and nourish your skin.
Indulge your senses in a symphony of captivating fragrances. Lavender Veil's calming properties help alleviate stress and promote relaxation, creating a tranquil state of mind. The invigorating blend of Vitality energizes and uplifts your spirits, promoting a sense of motivation and focus. Ocean Spa's serene fragrance promotes a feeling of harmony and balance, soothing both body and mind. The alluring scent of Desire enhances your confidence and fosters a sense of passion and sensuality. Indulgence indulges your senses, allowing you to revel in moments of self-care and luxury. The vibrant fragrance of Mango brings a burst of joy and positivity to your day. Rhubarb's invigorating scent provides a refreshing boost, while Cherry Blossom's delicate allure evokes feelings of beauty and serenity.
But it doesn't stop there. Each product in the "Bath & Body" collection is infused with a carefully curated blend of minerals, vitamins like B5, glycerine, and panthenol, ensuring that your skin receives the utmost care and nourishment. The shower gel, body wash, and bath oil cleanse and hydrate, leaving your skin feeling refreshed and silky-smooth. The body scrub gently exfoliates, revealing a radiant complexion, while the body lotion and moisturizer provide deep hydration, locking in moisture and leaving your skin supple and glowing.
For your hands, the hand wash and hand moisturizer cleanse and nourish, keeping your hands soft, smooth, and protected. And in today's world, hygiene is paramount, which is why the collection also includes a hand sanitizer, ensuring your hands stay clean and refreshed throughout the day.
Experience the epitome of self-care and indulge in the "Bath & Body" collection. Immerse yourself in a sanctuary of exquisite fragrances, luxurious formulas, and transformative effects. Elevate your daily routine to a spa-like experience, nurturing your skin, uplifting your spirits, and restoring your overall well-being.
| | |
| --- | --- |
| Product category | Body |
| Product type | Body Scrub |
| Collection | Bath & Body |
| Net weight | 250g |
| Gross weight | 300g |
| Colour | Mix |
| Product dimensions | 10 x 4.5 cm |
| Fragrance name | Cherry Blossom, Desire, Indulgence, Lavender Veil, Mango, Ocean Spa, Rhubarb, Vitality |
Free Delivery
UK Free Delivery - for orders over £40 (1-3 working days)
EU Free Delivery - for orders over £90 (2-5 working days)
Standard Delivery
UK Delivery - £5 shipping fee applies to orders below £40 (1-3 working days)
EU Delivery - £15 shipping fee applies to orders below £90 (2-5 working days)
NON-EU Delivery - £25 shipping fee applies to all orders (2-7 working days)
International Delivery - £35 shipping fee applies to all orders (2-7 working days)
USA - £20 shipping fee applies to all orders (1-3 working days*)
> View all delivery details
Only logged in customers who have purchased this product may leave a review.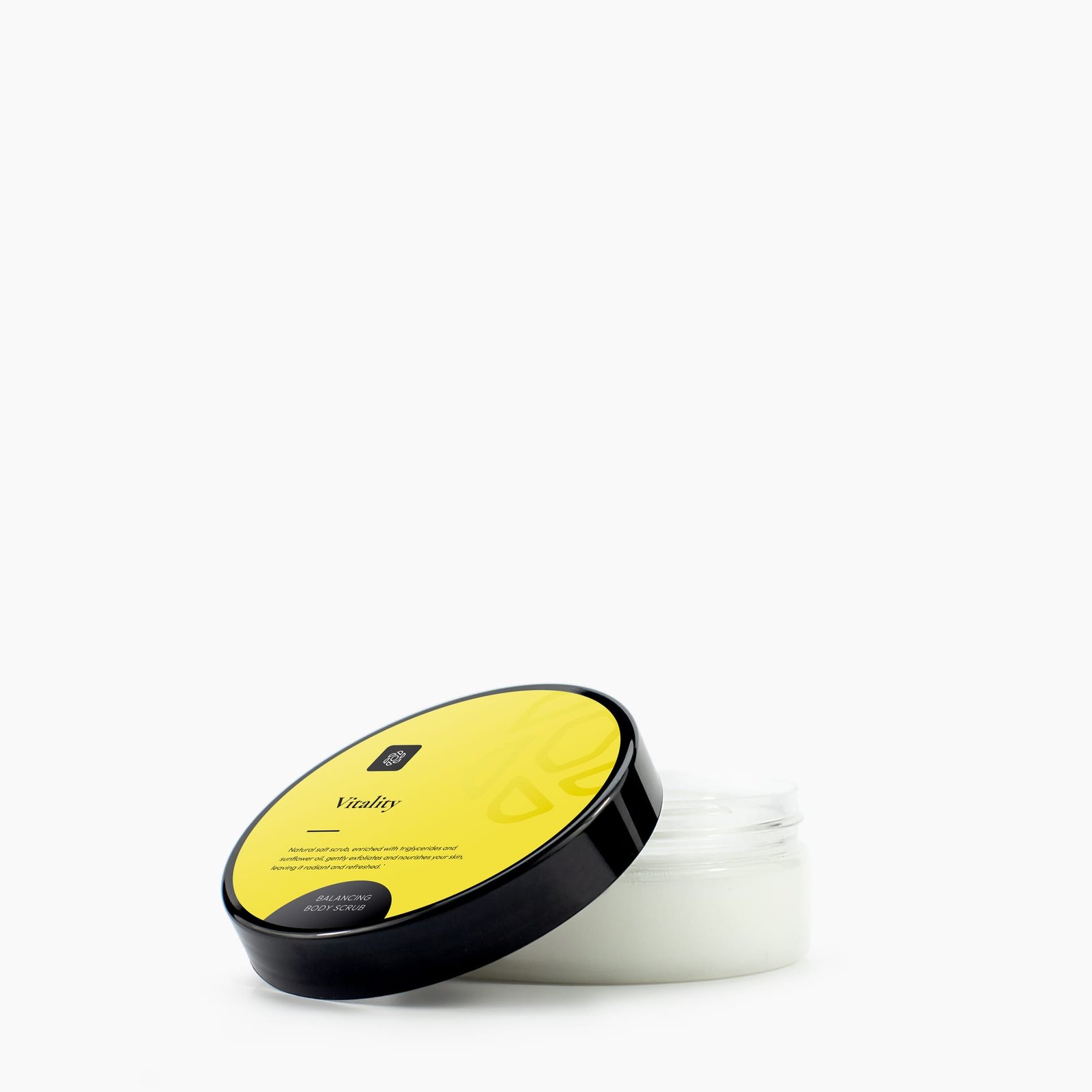 Balancing Body Scrub
£24.95